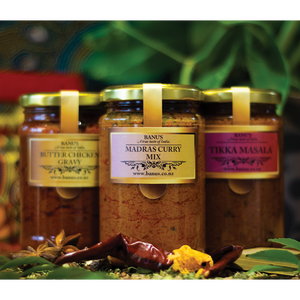 Don't know which gravy to choose? Or want to try all of these delicious gravy's? Grab this selection and save. Includes Butter chicken, Madras, and Tikka Masala.
The 3 gravy combo is sure to appease your desire for curry any day of the week.  Simply sauté your choice of protein or vegetable, add a jar of the sauce along with half a cup of hot water, one boil and the curry is ready. 
For detailed recipe please see individual product page.
This combo with our cumin rice pack will make your meal options super easy and quick.
PLEASE NOTE
1.  All sauces will be shipped in food grade pouches which are easy to freeze.  This is to avoid glass shattering in transit.  
2.  Please refrigerate upon receiving your order.