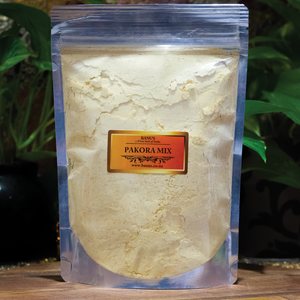 Pakoda, pikora, bhajiya, pakodi, ponako, pakura, fakkura, phulauri, bora, chop or fritters.  Many names for making a sumptuous deep fried or pan fried goodies. 
Pakora is a very popular anytime snack made in Indian homes using different vegetables. In South India (Tamilians from where I come from) it is it is called "bajji sojji- பஜ்ஜி சொஜ்ஜி" in Tamil.  In Tamil homes, especially in the Brahmin community, this sweet and a savoury snack is offered to a boy and his relatives when they come to see the girl of that home for a marriage alliance.

Bajji or Bhaji is a snack that everyone knows in India.  This is cut vegetables pieces like potato, egg plant etc., dipped in a thick mixture of gram flour, chilli powder, salt, water and deep fried in oil.  There are many variations to this depending on the region you visit.
Ready in minutes
100% vegan / vegetarian
Gluten Free 
No raising agents (soda / baking powder)
300 Grams
Ingredients - chick pea flour, rice powder, salt, carom seeds, garam masala
Allergens - Nutmeg, Mace
HOW TO USE IT?
ONION BHAJI / ONION PAKORA

Cut one large onion into 2 half, cut not too thin slices, add 1grams of salt, mix, cover and let it rest for 30 minutes. This process will make the onion sweat which will then help to bind my Pakora mix
To the marinated onions start with adding 2 - 3 tbsp of my Pakora mix, gently bind it, don't crush the onions, all you want is a nice coat of the flour on the onions.  (If you like doughy then add more)
Taste for salt, if needed add more and if you wish it to spicy add little more chilli powder
Heat oil, fry in small batches the pakoras
When half done, drain and keep it aside. Make a full batch of half done pakoras.  Rest it for about 2-3 minutes.
Let the oil reheat then in small quantities, batch by batch fry off the onion pakora and drain on a paper towel. This process is called double frying, which makes your pakora very crispy.
 Tips – you can add to the onions some soaked cashews, curry leaf, thinly cut green chillies, grated fresh ginger, thinly cut potatoes.
 Watch my video 
BAJJI / BHAJI (பஜ்ஜி ) 
Thinly cut rounds of potatoes (2 small ) or onions (1 large) or egg plant or raw banana
Take 3-4 tbsp of the flour, add a little bit of water, mix well taste salt and spiciness add more if you please.
Ensure the batter is thick yet pouring consistency
Heat oil
Dip each slice of the vegetables fully into the batter, gently slide it in the hot oil, fry and drain – you can double fry for best results.
 Tips – ensure your diced vegetables are dry (pat dry it).  If it is too wet then it will dilute the batter further making it difficult to coat.
You can partially blanch cauliflower florets, dip it in the batter and deep fry for cauliflower bajji.
FRITTERS – PAN FRIED
Finely dice potatoes, onions, cauliflower, carrots
Wash and drain completely
In a bowl add the vegetables, 3-4 tbsp of my Pakora mix, add very little water
Mix well to a point the mixture is well coated yet a bit runny
Taste for salt and chilli – add as you desire
Heat a pan with some oil
With the help of a spoon, leave the mixture in the oil and shape it round
Let each side cook
Drain and enjoy with my Date and Tamarind Chutney
Tips – You can make a nice curry gravy, add the fritters in the end and make a unique and sumptuous curry.
You can add it to yogurt curry called Kadi (yogurt and chickpea flour all blended together with salt and chilli powder).
You can put these fritters between slice of toasted and butter bread slices – you can add a layer of lettuce, onion rings, tomato slice and some tomato sauce or my Date and Tamarind Chutney.
IMPORTANT NOTE - Don't be tempted to add too much water, add little by little till you have a thick consistency,  Best is to whisk it well, let it rest for 10-15 minutes, whisk again build lots of air for it become fluffy which means your pakoras are light, fluffy and crunchy.
Note - the pakora mix has spice and salt in moderate quantities, you are most welcome to add more chilli powder and salt as per your taste.  It is highly recommended that once you make the batter taste it and adjust it to your liking.