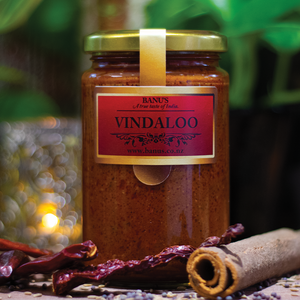 VINDALOO IS FINALLY HERE !!!! Upon requests from all of you, we are so happy to introduce our new hot sauce family member VINDALOO!!! Heads up... it is HOT (spicy).
Vindaloo is a very popular dish originated in West India specially Goa.  It is a spiced dish that can be made vegetarian or with pork or chicken. 
The sauce tends to be fiery hot, the color is radiant and spicy due to the kind of chilies used.  Based on the Portuguese dish "carne de vinha d'alhos" (literally "meat in garlic marinade" ) a vindaloo is a dish of meat (usually pork) marinated in vinegar and garlic. The basic structure of the Portuguese dish was the Portuguese sailor's "preserved" raw ingredients, packed in wooden barrels of alternate layers of pork and garlic, and soaked in red wine.  This was adapted by the local Goan cooks with the substitution of palm vinegar for the red wine, and the addition of spices. It evolved into the localized and easy-to-pronounce dish "vindaloo".
We promise we have stayed honest to the taste and flavors and above all it is a vegan sauce which means everyone can enjoy it.
Ingredients:  onions, ginger, garlic, white wine vinegar, tamarind paste, chilli powder, turmeric powder, cumin, pepper, salt, mustard powder, jaggery. cinnamon, cumin seeds and cloves.
Allergens: Mustard seeds.

Free from: msg, palm oil, preservatives, nuts, gluten, soy, artificial colors.
It is vegan/vegetarian friendly.
Size - 300ml Jar/pouch.
Storing; must be refrigerated for longer shelf life as it contains no chemicals, stabilizers or preservatives to extend shelf life.
Four steps to make the best vindaloo:
Sauté 1kg of pork/ vegetable / tofu / paneer in a pan till it is cooked fully.
Add this jar of vindaloo sauce to your sautéed ingredients and mix well.
Add ½ cup of hot water, mix well,

 

 check salt add if desired.

Bring to one rolling boil, then remove from heat. Let it rest for about 5-10 minutes. 
Expect the curry to be runny as it is supposed to be so.
Finishing the curry
If you are using coconut cream, shake well, add a little taste and add more if required stop when you are happy with the taste profile.

DON'T ADD TOO MUCH WATER AS THE COCONUT CREAM/ CREAM OR YOGHURT WILL DILUTE THE CURRY FURTHER.  SLOWLY ADD CREAM OR COCONUT CREAM OR YOGHURT AND KEEP CHECKING THE TASTE STOP WHEN IT REACHES THE DESIRED TASTE AND CONSISTENCY.
TIPS : if cooking with Pork then add some raw potato as it absorbs the fat from the pork and cooks deliciously.  You can mash some later if you like a thick sauce.
PLEASE NOTE
1.  The sauce in the fridge will stay well for two months.
2.  Once you open it is highly recommended that you make the full curry and freeze the curry.
3.  Please enjoy the sauce soon as it is super fresh with no nasties.
PLEASE NOTE
1.  All sauces will be shipped in food grade pouches which are easy to freeze.  This is to avoid glass shattering in transit.  
2.  Please refrigerate upon receiving your order.