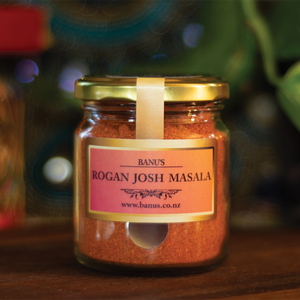 Introducing the very fragrant Rogan Josh Masala. "Rogan" means oil and "Josh" means stew, it is an aromatic curried meat dish of Persian or Kashmiri origin. Traditionally this dish is made with red meat (lamb or goat). It is coloured and flavored primarily by alkanet flower or root and Kashmiri chilies. This dish is one of the signature recipes of Kashmiri cuisine.

To make a Rogan Josh curry you don't need to fry onions, ginger garlic paste or tomatoes, rather the meat cooks in oil and a combination of aromatic spice blends. It is then slow cooked for hours for the magic to happen.

Here is my blend which is true to its origin, it has a number of spices that are unique to Kashmir including saffron, ginger powder, fennel and more. However, the hero of this blend is the Kashmiri chilli powder which is fragrant, mildly hot, and brings a deep red hue to the dish.
Ingredients - turmeric powder, green and black cardamom, cumin powder, asafetida, fennel, cinnamon, ginger powder and kashmiri chilli powder.
Allergens - asafetida (contains flour)

How to use it;
500 grams of meat, use either mutton chops or beef

1.  Heat a pan with about 1/2 cup of oil

2.  Add 5-6 whole cloves
3.  Add the meat and cook in that oil for good 4-5 minutes 

4.  Transfer the content into a slow cooker or a thick bottomed pot
5.  In a bowl
- add 1.5 - 2 tbsp. of my Rogan Josh powder
- add 1/2 cup of hot water
- salt to your taste mix
- 1/2 - 1 tsp chilli powder in case you want a little bit of heat
- add it to the slow cooker (this is to avoid the powders from burning)
6.  Let it cook for about 15 minutes
7.  In a bowl whisk 250 grams of plain yoghurt and add it in
8.  Mix well and add another 1/2 cup of hot
9. Slow cook for about an hour put it off when the meat falls off the bone

P.S - it is a mild, fragrant and sumptuous curry with beautiful red hue, in case you like it hot add about 1 - 1.5 tsp of chilli power with the Rogan Josh powder.

That is it, your Rogan Josh is ready!!